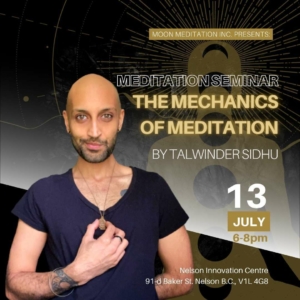 Struggle to meditate? No problem.
Get Tickets: https://www.eventbrite.com/e/370741777637
About this event
THE SEMINAR
What to expect:
No Sharing Circles
No Gimmicks
Clear and Concise Language
Easy to understand.
Neurodivergent-Friendly Teachings
Suitable for beginners
Queer-Friendly + BIPOC Safe Space
Bring a notepad and pen!
Join this transformational event and join Terry Sidhu, Founder of Moon Meditation Inc., and understand the mechanics of meditation outside of temples & ashrams, yoga classes and ceremonial circles.
Learn how to begin meditation and experience the benefits first hand.
Clearly understand how meditation works
Discover the mental & spiritual health benefits of meditating
Learn how to start meditating daily (with little to no effort)
Experience meditation with a guided instruction & more…
Get Tickets: https://www.eventbrite.com/e/370741777637 
ABOUT TERRY
Talwinder Sidhu (He/They/Terry), Founder, Moon Meditation inc., was introduced to meditation at 9 years old and learned the majority of his practice through Sikh, Buddhist and Hindu philosophies.
He has also authored two Amazon Bestsellers, Meditate: Breathe into meditation and awaken your potential, and, The Meditation Kit: A beginners guide to items for a safe space, and has taught thousands of people across the globe how to meditate, clear mental health struggles, and improve their spiritual well-being.
Terry reaches a large audience through online group classes, live webinars, and creating content on TikTok. He also specializes in developing meditation techniques for neurodivergent people , and works one-to-one with clients living with significant mental health challenges such as CPTSD and DPDR.
His dream is to one day open a neurodivergent-friendly meditation school and begin a teacher training program . When he isn't teaching meditation he enjoys styling clothes, dancing, meditating—especially when he has a weekend clear to initiate a tantric ritual—and discussing and debating solutions to life's biggest problems with fellow humans.
THE COMPANY
Our mission is simple, to teach meditation to those who seek it.
Moon Meditation Inc. is committed to decolonizing and reintroducing the ancient practice of meditation to the modern world, by developing educational resources void of religious dogma, and adopting an approach that is inclusive, authentic, and easy to understand.
Moon Meditation is a brand new company est. June 17, 2022, and appreciates your support, and patience, as it develop operations, learn and grow.
Instagram: @moonmeditation.io
TikTok: @moonmeditationschool
Email: admin@moonmeditation.io
Website: MoonMeditation.io, coming soon.