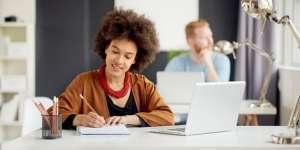 Are you launching a business within the next 6 months and looking for accelerated business support?
About this Event
Want to turn your idea into a successful business? The first step is a business plan, and that's where we can help. Join Futurpreneur's Business Development Manager, Sue Ross, and other aspiring entrepreneurs at our Build a Brilliant Business Plan workshop—a FREE business plan jam!
Presented by Futurpreneur and Nelson Innovation Centre, the workshop includes an in-person session that will help you get started on developing a successful business plan:
Learn how to communicate your offering, set goals and take action toward launching your business.
Learn how to engage customers, understand the basics of a strong marketing and sales plan, and project cashflow.
This workshop is ideal if you:
Are 18-39 years old
Have a strong business idea OR recently launched a business and are looking for strategic direction
Launching a business within the next 6 months and looking for accelerated business support
Want to gain access to one-on-one business coaching
Want the opportunity to apply for startup financing with up to two years of mentorship after you launch
Where: Nelson Innovation Centre – 91 Baker Street, Nelson, B.C.
The workshop will take place in the Centre's stunning boardroom and state-of-the-art work hub, complete with projector, sound system and much more!
Note: To provide a safe environment for all participants, we are limiting the number of attendees to 10 per session and will ensure that seating allows for proper social distancing. NiC has a strict and comprehensive COVID-19 safety plan. By registering for this event, you agree to wear a mask until seated, use hand sanitizer upon entry/exit, and provide your contact details upon check-in to allow for contact tracing.
If you are feeling unwell and/or exhibiting symptoms of COVID on the day of the workshop, please do not to attend.