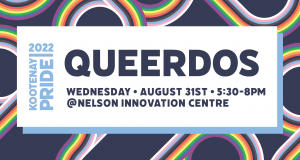 Inspiring queer, questioning and curious people to step into their truth and express themselves authentically, through Meditation, Art, and Conversation.
Does this sound like you?
"I think I'm queer but I'm not sure."
"What will my parents think if I'm Gay?"
"I think I'm in love with my best friend who's straight!"
"Is this just a phase?"
"I'll lose everything if I come out!"
"I know I'm queer, but I don't know how to embrace it"
"I'm queer and looking for queer community"
Stepping into your "queer" can often feel like a daunting, confusing and shameful experience, especially with the negative connotations and stigmas attached to being 2slgbtqia+.
With very few positive narratives in the media, Queerdos is a safe space for all those who have questions and concerns about their sexuality, and/or are seeking the inspiration and guidance to step into their truth just that much more.
It doesn't matter how you identify, if you feel like you need community and a safe space to explore your identity, raise questions to a comfortable group of "Queerdos", and realize that being yourself is your greatest asset in life, then join us for an evening of self discovery!
 Part-1. Meditation.
An inspirational guided meditation to help you get comfortable with yourself and accept who you are.
Part 2. Art.
Explore your creativity and unleash your identity onto canvas.
Part 3. Conversation.
Talk about your creation, chat with a panel of Queerdos, and get inspired to live your life to the fullest!
The Queerdos are here to help you feel comfortable within your skin, your thoughts and your identity. Expect to learn, laugh and live a little!
Queerdos is a safe space for all and facilitators will operate a zero tolerance policy on any judgment or harassment of others. Please come with an open mind and respectful attitude, kindness is a strength and a willingness to participate is courageous.