This description was written by an AI tool, ChatGPT: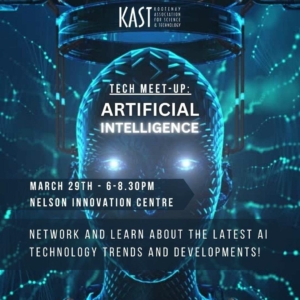 Join us for our monthly tech meet-up happening on March 29th from 6-8.30pm, where the theme of the night is AI Takeover. This is an opportunity for tech professionals and enthusiasts to network and learn about the latest AI technology trends and developments.
Our event will feature AI demonstrations and presenters who will share their insights and experiences in the AI industry, as well as interactive discussions and Q&A sessions where attendees can ask questions and share their thoughts on AI.
In addition to the informative talks, attendees can expect to enjoy snacks and beverages while mingling with fellow tech enthusiasts. This event is a great opportunity to connect with like-minded individuals and gain a deeper understanding of AI technology.
Whether you're an AI expert or just starting to explore the field, this meet-up is the perfect place to learn, network, and have fun. So mark your calendars for March 29th and come join us at the Nelson Innovation Centre for an evening of AI discussion and networking!